Continuing with the SAL team previews, here's my look at the 2016 Lakewood Blueclaws.
The Blueclaws are a Phillies franchise and when putting this preview together I scoured the Williamsport Crosscutters and GCL Phillies rosters.  I then spoke to Phillies prospect guru Matt Winkelman to learn how the Phillies handle promotions in the low minors and league assignments in general.
Question #1:   In regards to high school draftees and international signings do they typically stop at both levels of stateside rookie ball or do they sometimes go straight from the GCL to Lakewood?
"Depends on age and how advanced the player is. They have jumped some advanced bats (Crawford) to Lakewood.  It is similar on pitching side, Elniery Garcia got jumped because of his command, Franklyn Kilome did not.  Also on pitching side, workload is a factor, they have to think the guy can handle a full workload.  On a practical side of this, I think Randolph goes to Lakewood and Medina/Falter do not (at least to start). 
Question #2:   In regards to college draftees do they sometimes skip Lakewood after leaving Williamsport?
"Absolutely, it is dependent on who is at Clearwater though, the system is more full which has backed up promotions.   In a normal year I would say Tyler Gilbert would be a lock to jump Lakewood, but the Clearwater rotation is pretty full already."
You can find Matt on Twitter @Matt_Winkelman, he also owns Phillies Minor Thoughts  philliesminorthoughts.com which is among the best team oriented prospect sites around IMO.  He was very generous with his time and an excellent resource that I would reach out to again.
The official rosters won't be available until early April so this is me speculating.
This is a scouting site and once I see Lakewood (they're on the preliminary schedule for 5/4, 5/6, 7/12) you can expect write ups on most of these players.
the Notables
LF) Cornelius Randolph
Cornelius Randolph- Age 18, listed at 5'11" 205 lbs, bats left and throws right.  Randolph was drafted 10th overall in the 2015 draft out of high school in Griffin Ga. Considered one of the top prep bats in the country Randolph sprays the ball around to all fields and has an excellent approach at the dish.  It will be interesting to see how much power he'll generate as he fills out.  A high school shortstop the Phillies immediately slotted Randolph in left field which does put added pressure on the bat. A little bit surprising they didn't try him on the dirt first.  I'm looking forward to seeing him.
RHP) Franklyn Kilome
Franklyn Kilome- Age 20, listed at 6'6″ 175 lbs, bats and throws right. Kilome was signed for $40,000 in 2013 out of the Dominican Republic. According to Chris King formerly of Fangraphs, now 2080 Baseball: Kilome's fastball velocity spiked (now sitting mid to upper 90's with sink) and he started to show more consistency with his secondary pitches. He's got work to do with his command, but the sky is the limit for this kid. Here's a link to the article.  Well worth the read.  http://www.fangraphs.com/blogs/phillies-sleeper-righty-franklyn-kilome-has-a-velo-spike/
3B) Lucas Williams
Lucas Williams Age 19, listed 6'1″ 180 lbs, bats and throws right. Williams was drafted in the 3rd round of the 2015 draft out of high school in Dana Point, Ca (halfway between LA and San Diego). Williams was a pop up guy in part because he played all over the diamond in high school. He played shortstop during his senior year and his stock soared, and pre-draft the scouts seemed to like his chances to remain at shortstop. The Phillies moved him to 3rd to start his pro career and like Randolph above that does put more pressure on the bat.  Williams has good bat speed and wheels.
RF) Jose Pujols
Jose Pujols Age 20, listed 6'3″ 175 lbs, bats and throws right.  Pujols signed out of the Dominican Republic in 2012 for $540,000.  Pujols has big time raw power and a cannon in right field, but remains on the raw side both offensively and defensively.   Lets see if he can begin to turn the loud tools into performance.
RHP) Adonis Medina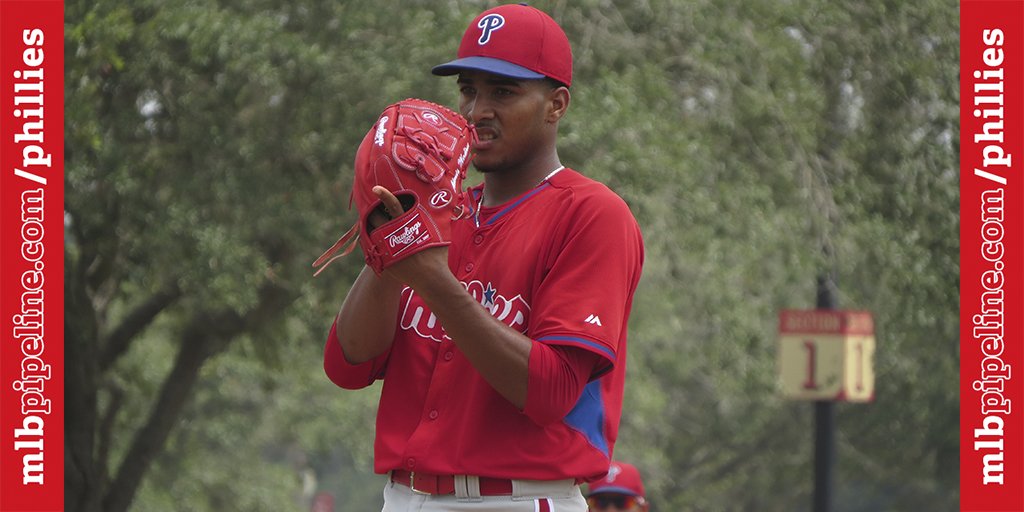 Adonis Medina Age 19, 6'1″ 185 lbs, bats and throws right.  Medina signed for $70,000 in 2014 out of the Dominican Republic    According to Matt Winkelman, Medina throws a low to mid 90's fastball, flashes a plus curve and a potential above average to plus change.  Or #2 starter upside.  You can read the whole scouting report here. http://philliesminorthoughts.com/player-pages/pitchers/adonis-medina/
Around the diamond
Catcher
Austin Bossart, Gregori Rivero, Joel Fischer could return and the wild card is Edgar Cabal.
Middle Infield
2nd base
10th rd pick Josh Tobias, age 23, seems like a potential candidate to skip Lakewood.  Others in the mix at 2nd base: Grenny Cumana could return he saw time at 2nd and short, William Cuicas could also return and he's played 2nd, short, and third.  And Luis Espiritu and Cuicas split time between 2nd and 3rd.
Shortstop
We may see a possible return from Emmanuel Marrero, Cumana could also be a factor here.  William Cuicas could also see significant playing time.
Corner Infield,
1st base- The player I'm hoping to see is 18 year old Luis Encarnacion, he can handle the bat and has decent power potential. He's probably headed for Williamsport though.  Others we could see at 1st: Branden Haden, Jesus Posso and Scott Tomassetti (the later two have also seen time behind the plate).
3rd base is interesting. In addition to Lucas Williams there's Jan Hernandez a player with loud tools but approach issues.  Williams could potentially start in Williamsport
Outfield
Pujols will likely be in right field, the starting center fielder seems to be one of: 13th round pick Zack Coppola or Carlos Duran, and Cornelius Randolph should start in left.
Other candidates for playing time in the outfield: Gustavo Martinez might be back (he's seen time in both corners) Mark Laird (he plays both left and Center) Andrew Almaro (plays right field and 1st base). And from the GCL there's center fielders Juan Luis and Jesus Alastre and Greg Pickett who plays right.
Starting Pitching
In addition to Kilome and perhaps Medina, Shane Watson might return. Also newcomers:  6th round pick Tyler Gilbert, Alejandro Arteaga, Jose Taveras, Mitch Gueller and from the GCL side, 5th rd pick Bailey Falter and Felix Paulino.
The Phillies are a fun system to explore and there's a lot of talent here.
Up next is a look at the 2016 Lexington Legends (Royals)